Dr. Sylvia Rimm
Psychologist, Author, Speaker, Columnist,
Parenting Specialist, Gifted Children Advocate
| | |
| --- | --- |
| | Photo: Dr. Rimm was on a panel discussion at the 2017 National Association of Gifted Children with Tom Flynn, the screenwriter and author of "Gifted," the movie and the book. |
"Dr. Sylvia Rimm offers down-to-earth advice parents
and teachers desperately seek,"
- The Washington Post
"Dr. Rimm is a welcome voice of calm and reason — someone who offers practical advice, with almost immediate results. She's a guardian angel for families who need a
little or a lot of guidance."
- Katie Couric, former NBC Today show host
As a charismatic speaker, Dr. Rimm speaks internationally on family and school approaches to guiding children toward achievement, parenting, and the lives of teenagers. She is an effective speaker who fascinates audiences, speaking on many topics, tailoring her educational talks to an audience of parents, teachers, administrators, community leaders, and even students.
Dr. Rimm's Latest Book: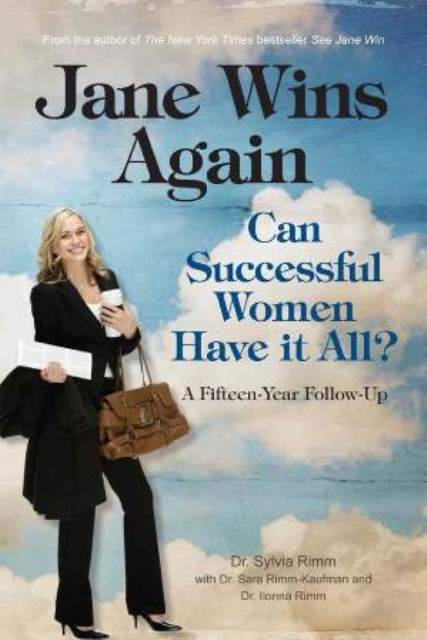 Jane Wins Again:
Can Successful Women Have it All?
A 15-Year Follow-Up

A review of Jane Wins Again by Elaine S. Wiener, associate editor of book reviews for the Gifted Education Communicator:

"We are quite spoiled by Sylvia Rimm's books! For years I have used all of Dr. Rimm's books with details so precise and helpful. I used them as a teacher and also as a parent. And when my granddaughter has children, as is her wish, a whole set of books is waiting for her to read."
Ms. Wiener continues, "Jane Wins Again is full of advice and suggestions made in lists easy to read and can be used forever and ever. The stories told by these women are open and honest, full of heartaches even though these women are successful and have very important jobs. The combination of these stories and Dr. Rimm's own words make this book a keeper."
***********************************************************
E-Books Available
Dr. Rimm's books Why Bright Kids Get Poor Grades, How to Parent So Children Will Learn, and Keys to Parenting the Gifted Child are available on e-book through Barnes and Noble for the Nook and Amazon.com for the Kindle.
Need a Dynamic Speaker?
Bring Dr. Rimm to your school! Call 1.800.795.7466 or visit the Speaking Schedule page for speaking topics and to view her upcoming schedule.
Ask Dr. Rimm a Parent or Teaching Question
In her parenting column, Dr. Rimm answers hundreds of letters each year from parents, grandparents and teachers in her nationally syndicated column with Creators Syndicate. Visit the Articles for Parents and Teachers page or click on Ask a Family Question to email Dr. Rimm.
Purchase Dr. Rimm's Educational Materials
Shoppers receive a 10% discount on Dr. Rimm's books, CDs/DVDs, Q-cards, and more. Prices shown in red already reflect the discount. Click the Add to Cart Button to purchase online. Orders shipped outside the US must mail or fax your order to the address or fax number listed on the order form.