CHILDREN LEARN THROUGH PLAY
It is important for your children of all ages to love learning, and we do know that children love to play. If learning and play are taught together, children will automatically love to learn. Specific kinds of play may make a difference in your children's learning potential. Below is a list of toys that provide a variety of learning experiences especially during the preschool years. Although children may have their favorites, be conscientious about providing them familiarity with many kinds of play. A broad selection of play materials will expand children's abilities and interests.
When you select gifts for your children or for children's friends, consider
PLAY AS LEARNING*

Children learn through play. Creative and educational toys are their tools. Here is a list of types of toys and some of the main skills learned through their use.

TOYS

SKILLS

Art materials (paints, markers, crayons, scissors, tape, etc.)

Creativity, small muscle coordination, spatial skills.

Puppets, dolls, dress-up customs, masks, etc.

Imagination, role playing, emotional expressiveness

Dominoes, puzzles, tangrams, building materials, blocks

Imagination, spatial skills, organization, planning, number concepts.

Music, taped stories, nursery rhymes, board games, rhythms

Spatial, pre-reading, listening skills, large muscle coordination

Letter and number cards, board games, lotto

Pre-reading, math, cooperative and competitive skills

Books

Imagination, verbal and attention skills

From How to Parent So Children will Learn by Dr. Sylvia B. Rimm (Crown, 1996)
toys that will permit them to enhance a variety of skills. It's better for children to become actively involved with toys, rather than just watch toys or push buttons. Active involvement permits coordination, imagination, and pre-academic learning to take place simultaneously.
GENDER STEREOTYPES
IN PLAY
Most parents will say that their boys just gravitated toward boy toys, their girls toward girl toys, but because children learn through play, it's especially important that learning expands beyond gender-stereotyped toys. For example, girls are rarely observed playing in the block corners of preschools although building with blocks may enhance children's spatial skills, which, in turn, can have a potential effect on girls' math skills. Boys seem to be more attracted to all kinds of building play, but it seems worthwhile to encourage such play for girls as well.
Dress-up play enhances imagination, and it seems more difficult to encourage boys to play dress-up. Doll corners also seem to attract fewer boys, although boys are often willing to play the daddy role. Certainly preschool children's playing house gives them opportunities to learn about nurturance because a doll or two usually are considered the babies.
Arts and crafts, including cutting, coloring, pasting, and painting need to be especially encouraged for boys who don't seem to be as easily engaged in these tasks. First-grade boys often have handwriting problems. Their lack of experience with pencils and crayons may be partially to blame, so it certainly makes sense to encourage all children to express themselves in the arts for enjoyment, creative expression, and also for the practice that can improve their eye and hand coordination. Dot-to-dot and follow-the-number books would be especially important for developing pre-writing skills.
PLAYING BOARD GAMES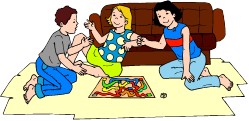 Playing board and card games with children has a dual function in enrichment. Children learn number concepts and colors, and spatial abilities are enhanced when -they count in a board game or compare numbers in a card game. Learning to count the numbers on dice is also helpful. Children learn to recognize numerals by spinners. Color recognition can be learned from markers or cards in preschool board games like Candyland. Chess and checkers and moving spaces on a board help children's spatial skills.
Important social skills are also learned from playing board games. Taking turns and knowing they can't always be first are rudimentary skills that will help children in school and on the playground. Learning about being a good loser and learning not to cheat are often difficult learning experiences for children. Be sure not to let your children win all the time, or they won't learn those important lessons about competition. Hopefully, by chance alone, they won't lose all the time either. If the game involves skill, you'll need to give them an advantage and explain to them how and why you've done that. You can help balance the disappointment of losing by having the winner do the clean-up or the loser pick the next game. When kids can learn to laugh at their losses, you'll really be accomplishing an important teaching feat.
COMPUTERS
Computer games help children learn as well. Many preschoolers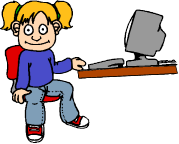 learn basic math and reading skills by use of the computer. They also become comfortable with technology by using a computer regularly. However, like too much television, too much computer use also has its drawbacks. Your children should be learning how to interact socially, and interaction with the computer doesn't provide practice for talking to or playing with other children. I have worked with several children who spent many preschool hours fascinated by the computer, and they had significant difficulty adjusting to interaction with other children in preschool, kindergarten, and beyond. Other children don't respond to them as computers do, so for learning social skills, children simply require other children.
PLAY FOR OLDER CHILDREN
As children mature through the elementary years, play needs to increase in complexity. Strategy games can fascinate and should be encouraged for girls as well as boys. Toys that permit science experimentation or creative thinking expand children's imagination and often tie play learning to school learning. Games that involve exposure to the arts can encourage children to learn about artists, musicians, and authors all while having fun. Preadolescents often combine games and formulate new rules. This provides further opportunity for creating complex strategies and interactions, although parents may struggle with their children's new rules to old games.
PLAY WITH YOUR CHILDREN
FOR BETTER COMMUNICATIONS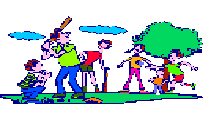 Children surely require opportunities to play alone and to play with friends, but from the preschool years on, play and games is a route to good family communication. It's easy to make conversation over a game board or as you build structures or models together. Laughter, give and take about school, work, and friends, stories of your childhood, and happy and sad experiences flow easily from parent to child and child to parent as play relaxes the family.
Confidence in each other and bonding and togetherness flourish as you win, lose, negotiate, create ideas and formulate plans for your games. It is reasonable to believe that a family that can play together is more likely to stay together.
SUMMARY ADVICE:
Use toys to teach skills
Expand toys beyond gender stereotypes.
Play board games for fun and learning.
Use television and computers in moderation.
As children mature, encourage games that involve complexity, strategies, and imagination.
Play with your children for better communication.
The family that plays together, stays together.
©2010 by Sylvia B. Rimm. All rights reserved. This publication, or parts thereof, may not be reproduced in any form without written permission of the author.